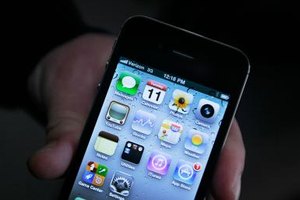 Apple's iPhone comes with an icon on its home screen that links you directly to the App Store. Introduced in 2008, the App Store celebrated its 10 billionth download in 2011. If you have removed the App Store icon from your iPhone by accident, you can restore it so that you have full access to purchase applications from your iPhone once again. Sometimes you can achieve this by changing the settings on your iPhone, but if that does not work you may need to restore your iPhone to factory settings.
Change Restrictions
Tap the "Settings" icon on your home screen to open your iPhone's setting options.
Touch "General" then tap to select "Restrictions."
Enter your four-digit restrictions passcode.
Move the slider beside "Installing Apps" until "ON" appears.
Click the "Home" button to return to the home screen. The App Store application should now appear there.
Restore Your iPhone
Connect your iPhone to your computer.
Select your iPhone under "Devices" after it appears in iTunes.
Click the "Summary" tab and select "Restore."
Click to select the "Backup" option when prompted to back up the contents of your iPhone.
Click "Restore" to restore your iPhone to factory settings.
Photo Credits
Chris Hondros/Getty Images News/Getty Images