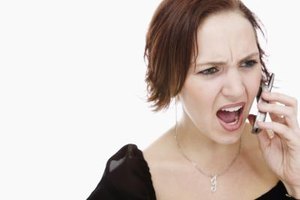 While modern smartphones offers many cool and productive features, perhaps the most important benefit of the phone is that allows others to stay in contact with others when you are away from home or the office. However, always being available for others can itself be inconvenient sometimes if you are busy with other tasks. For instance, if you are in the middle of an important conversation or meeting, the last thing you want is a call from a salesperson or other person with whom you do not wish to speak. Many modern cellphones allow you to block calls from specified numbers rather easily. However, with some other phones, you may have to install an application or use a third-party service to stop unwanted phone calls from interrupting your activities.
Phones with Native Phonebook Blocking Features
Press or tap the "Menu" key or button.
Select "Settings" and then "Phone" or "Phone Settings"; then tap "Calls" or "Incoming Calls."
Press or tap "Blocked Callers," "Blacklist," "Unwanted Calls" or other similarly named menu option. After selecting the appropriate menu option, your contact list or phonebook appears on the screen.
Select the name of the person from whom you do not want to receive calls and press or tap "OK" or "Block." If the name of the person is not in your contact list or phone book, enter his phone number in the number field and select "Block" or "OK."
Exit the menu screen on the phone. After you block the person, calls from the number no longer appear on your screen nor cause your cellphone to ring. A caller on your blacklist hears a busy signal when he attempts to call or hears a message stating that you do not accept calls from his number.
Android 4.0/4.1 Phones
Tap "Contacts" on the Home screen and then scroll down to the name of the person from whom you want to block calls.
Tap the "Menu" button and then "Options." Tap the check box next to "Incoming Calls - Send calls directly to voicemail" to place a check mark in it.
Return to your contact list and enable the "Incoming Calls - Send calls directly to voicemail" for other contacts as needed. Contacts for whom you enable the option hear your voicemail message when they try to call you and your phone does not ring.
Tips
To avoid unsolicited sales calls from salespeople or telemarketers, enroll your number in the "Do Not Call" registry. Registration with the National Do Not Call Registry is free and you can complete the entire process online in a few simple steps (link in Resources.)

If you have an Apple iPhone, you must jailbreak the phone before you can enable features that enable you to block calls from specific numbers. Jailbreaking your iPhone does not violate any laws but does void your Apple warranty. If you want to add or enhance your iPhone, though, jailbreaking it allows you to do so. After you jailbreak your phone, you can download and install iBlacklist on your iPhone. After you install iBlackist, you can open the app and select those in your phonebook you want to block or add blocked numbers to the blacklist manually. PC World magazine has an online tutorial that shows exactly what you need to do to jailbreak your iPhone (see link in Resources).

With Android phones, use the "Send calls directly to voicemail" option does not work for numbers not in your contact list. To block calls by number, and not contact name, install a third-party app such as Mr. Number on your Android phone. Mr. Number is a free Android app that you download and install free from the Google Play Store. Simply type "Mr. Number" into the Google Play search box to go to the download page for the app.
Warning
With some phones that offer native blocking features, your wireless carrier may charge for stopping incoming calls on your blacklist from reaching you. This does not apply to all carriers, but check with your wireless phone company just to be sure. This also does not apply to Android users because the software on the phone manages and rejects calls from the number on your blacklist and not the wireless carrier.
Photo Credits
Jupiterimages/Brand X Pictures/Getty Images