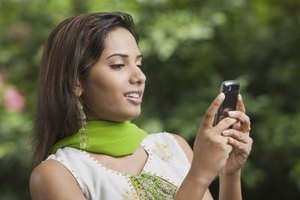 Choosing a cell phone can be a daunting task. With the great variety of shapes, sizes, features, cell phone plans and carrier choices, it all adds up to a plethora of decisions for the new cell phone buyer. Evaluating how you will use your new phone is the first step to deciding the best phone for you. After that you will need to consider which service provider gives you the best plan, whether to go with a traditional cell phone or a smartphone and the design and features of your category selection.
Service Providers
Choose a cell phone service provider before you decide on your phone. Service providers supply cell phone vendors with subscriber identity modules (SIM cards) that work exclusively with a single carrier. Most cell phone manufacturers allow multiple carriers including AT&T, Verizon, Sprint or one of several smaller carriers to sell their phones.
Think about where you will use your phone. Review coverage maps and research the signal strength of the carrier in your area by asking your neighbors or using tools on the Internet. If you travel abroad, some carriers work better than others due to the technology built into the phone.
Look at pricing. Most carriers insist on two-year contracts in return for a discounted price for the phone itself. However, you can purchase a prepaid phone that will generally cost less per month and not tie you into a long-term contract. Prepaid phones are usually more expensive up front than those with a contract, however.
Traditional Cell Phone Vs. Smartphone
Evaluate how you will use your phone and the price you want to pay.
Choose a conventional cell phone if you want a simple phone with basic functionality such as texting and the ability to store telephone numbers you often use. Many also have cameras and Bluetooth technology so you can use wireless headphones. Expect generally lower prices; some cell phones are offered at no cost from cell phone providers.
Select a smartphone if you want more features with a higher price. Standard smartphones come equipped with a touch screen and usually have either an Android, Apple iOS or Windows-based operating system, which supports the use of applications as varied as shopping, navigation, productivity and gaming. Wireless speeds are faster on a smartphone, facilitating faster Web browsing. Usually a smartphone comes equipped with a high-end camera as well.
Design and Features
Choose the screen size and number of pixels that best suits how you will use your phone. Screen sizes range from 2 to 4.5 inches, depending on the model. If you watch many videos, you may want to consider a larger display. The number of pixels determines the sharpness of the display.
Decide on the shape of your phone. Most smartphones are slab-shaped with a touch screen and an on-screen keyboard, while traditional cell phones are available as a flip phone or in candy bar or slider shapes. Most of these phones use a physical keyboard.
Check the speed of the processor; the higher the number of gigahertz, the better the phone performs.
Check the network speed of the phone and the provider. Not all phones or carriers support the newer, faster 4G network.
Determine the amount of storage that you require and compare it to the amount your phone has. Some phones, such as the iPhone and the Samsung Galaxy 3 offer several choices of hard drive space. Many Android smartphones and conventional cell phones feature a memory card slot that allows you to insert a microSD card into the phone to expand your storage space. Apple iPhones do not have this feature. However, all newer smartphones use technology that enables you to share, or sync, data among your devices or store data on a server.
Tip
Read reviews before you buy a phone. When choosing a phone, you will also want to shop around for both a cell phone provider and a service plan. Do not go with the first service plan or phone. Physically examine phones at a retail store before purchasing.
Warning
Consider how much data and texting you will use. Unless you can get a plan with unlimited data or texting, you will be charged a set amount each month according to the data plan you choose. It can become quite costly if you go over your limit, so choose your plan wisely.
Photo Credits
Comstock Images/Comstock/Getty Images