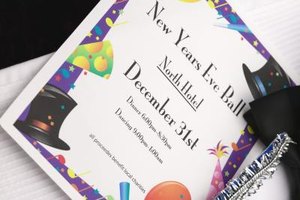 A few decades ago, when you threw a party, you'd create a paper flyer, make copies and distribute them to your invitees. The process was time-consuming and not at all environmentally friendly, plus there was always the chance that an uninvited set of eyes would see the flyer. Facebook offers an alternative way to distribute event invitations that is much more eco-friendly than a paper flyer. The social networking site hosts more than 16 million event listings every month, which is proof that word can be spread efficiently and effectively on Facebook. With an event listing on Facebook, you can create an invitation, target specific recipients, control who else likes and shares the event and track attendees.
Event Listings
Facebook is the ideal medium for inviting people to a party or event. The site's Events app acts as an electronic flyer, allowing you to provide pertinent party information, upload a custom party graphic, configure reminders and post updates that create buzz for the event. The people you invite will also be permitted to post messages, photos, videos and links on the event page, and everyone will receive notifications when something new is added. Confirmed attendees are also given the opportunity to add information to their electronic or mobile calendars.
Creating a Graphic
According to Social Media Today, posts that are accompanied by an image can generate an additional 50 to 60 percent of interest. Hire a graphic designer or ask an artistic friend to create an event graphic or simply do the design work yourself using software installed on your computer. A basic drawing program like Paint, for example, allows you to incorporate clip art, text, lines, shapes, and fills with minimal graphics knowledge. Use Microsoft Word's Word Art feature to create warped text -- in other words, make a line of text appear wavy, arched or fish-eyed -- and add clip art, shapes and other colors to draw interest. You can also use more sophisticated graphics software like Adobe Illustrator or even free online graphics generators like Cool Text or Glitter Graphics to create your design (links in Resources).
Graphic Tips
Your graphic can be a simple image or logo that conveys the event's theme or a standalone invitation design with multiple photos, attention-grabbing shapes and informative text. Add clip art from the Internet -- for example, if you are hosting a baseball barbeque dinner, search with keywords like "baseball clip art" or "bbq clip art." Incorporate photos of the honoree, past events or the event's location. Place text on the images, format with no more than two interesting fonts and use colors that stand out. A frame or solid background helps draw the design together. Save the design as a JPG or take a clipping snapshot -- using Snipping Tool on a PC or by pressing "Command-Shift-4" on a Mac -- to export your graphic for uploading.
Creating an Event Listing
To create an Event listing, log into your Facebook account and then select "Events" from the left side of your home page. From there, choose "Create Event" at the top right. Using the Facebook mobile app, this is achieved by tapping the Facebook menu button or swiping your finger to the right from any page, tapping "Events" and then tapping the "+" sign to add a new listing. Fill in the pertinent details, including event name, location and time. Privacy settings allow you to control who sees and shares the event. Be sure to also include your custom graphic. Once created, you can choose Friends to add to the guest list.
Privacy Settings
Facebook offers a variety of privacy settings to better customize who sees and joins your event. A "Public" event is visible to everyone on Facebook and anyone can be added to the guest list without host approval. A "Friends of Guests" event is visible to friends of those invited and additional guests can be added without host approval. An "Invite Only" event can only be seen by those individuals who have received an invitation. Further options within this privacy setting allow guests to invite additional friends, tag the event as their location or see the full guest list. A "Group Only" event is visible to members of a Facebook group, though viewing and sharing are dependent upon the group's privacy settings.
Additional Information
There is no limit to the number of people you are permitted to invite, but Facebook strongly suggests inviting only people you know or people you are sure will be interested in the event. To get the word out even further, Facebook also offers paid options to better publicize your event, including advertisements that market larger-scale public gatherings.
Photo Credits
Jupiterimages/liquidlibrary/Getty Images