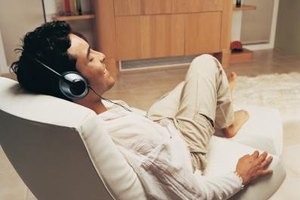 BlackBerry smartphones, including the Curve and other models, are capable of accessing the Internet via Wi-Fi or an included data plan. Although the device does not include a hardware-based FM radio, free radio applications are one possible solution that you may consider if you wish to listen to music on your BlackBerry Curve. TuneIn Radio is one such application, offering access to hundreds of standard FM stations. Other applications, such as Pandora, offer streaming Internet radio.
Download and install TuneIn Radio directly from its website (see Resources) or from BlackBerry App World. This application uses streaming radio data from FM radio stations from across the world. The application will use your location to find local stations, if this service is available. When listening to a station, click to view similar stations or save your favorites to a list on your BlackBerry Curve.
Install Pandora Internet Radio onto your BlackBerry Curve from BlackBerry App World. This free radio application requires a Wi-Fi connection or data plan. Search for music by artist, song or genre to create and save personalized stations. Select the "Quick Mix" option to listen to randomly selected music from all your favorite stations. When possible, Pandora will display the album art that corresponds to the song that is currently playing and you can rate each song up or down individually. Pandora will not play songs that you do not like after you rate them down.
Download Slacker Radio to your BlackBerry Curve by clicking the button in App World or directing your BlackBerry browser to the official site (see Resources). This radio application offers the unique feature of listening to music even when no connection is available by allowing you to save streams to your phone's memory card. You can choose from music by genre, including electronic, rock and current hits, or you can create your own station if the pre-made options are not to your liking.
Enter your email on the iHeartRadio website to email yourself a link to download the application on your phone. iHeartRadio is another real-time, streaming radio application for BlackBerry phones that features music stations as well as news/talk and sports radio. Once you launch this application on your BlackBerry smartphone, search for stations by location or name or tune into stations by genre. iHeartRadio also allows you to share current songs or videos with your friends via Facebook or Twitter. Use the "Surprise Me" feature to listen to a random station.
Tips
Streaming radio like TuneIn requires a data plan or Wi-Fi connectivity to download the application file and to play music.

A slow connection may result in frequent buffering or loading times when streaming music.

You may also download TuneIn on your computer, connect your Curve via USB cable and sync the app to the phone.
Warnings
If you do not have an unlimited data plan, streaming radio applications may use up all the data on your BlackBerry or Internet plan. For example, TuneIn Radio uses approximately 150MB of data per two hours of music listened.

Certain radio applications may not be compatible with the operating system on your BlackBerry Curve phone, even though the phone itself is compatible.
Items
you will need
BlackBerry Curve with data plan or Wi-Fi connection
Photo Credits
Digital Vision./Photodisc/Getty Images