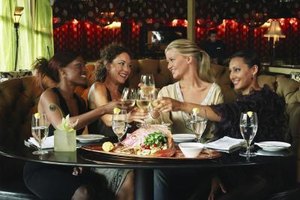 Facebook's target is to connect people with friends. The social networking service makes it easy for you to organize events and invite your friends, as well as friends of your friends. When you create an event, you need to choose when and where it takes place. After you create the event, you need to ensure people don't forget about it. Your reminders are sent to all guests at once, but you must avoid spamming the inbox of your guests with dozens of messages. A simple message like "Event starts in x minutes" is usually enough.
Log in to your Facebook account and click "Events" in the Favorites section.
Click the event to open its page. You can also click the "Calendar" or "List" button to view your events as a list or in a calendar.
Click the gear icon and choose "Message Guests" from the menu to open the Chat dialog box.
Click the "Select All" box and click the "Start Chat" button.
Type or paste your reminder into the Chat box and press "Enter" to send the reminder to all your guests at once.
Click "X" or press "Esc" to close the Chat window.
Resources
Photo Credits
NA/AbleStock.com/Getty Images