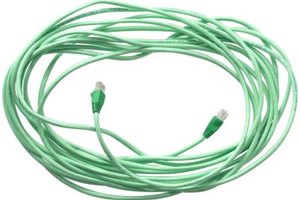 Routers connect a local area network -- a collection of one or more computer devices -- to a wide area network, such as the Internet. You can set up a Belkin router in your home or office to enable your computers, tablets, smartphones and gaming systems to use the Internet at the same time. Modern Belkin routers include a CD that automates the setup process, but if you're using an older model or lost the setup disc, you can configure the Belkin router manually.
Hardware Installation
Disconnect the charger from the modem and then connect the modem to the colored socket on the back of the Belkin.
Connect a computer to one of the available ports on the rear of the Belkin.
Reconnect the charger to the modem and then connect the router to power.
Setup with a CD
Check the product sticker on the router to find the network name and password assigned to the device. Insert the setup disc shipped with the Belkin in the computer's optical disc drive.
Right-click the Start button, select "Open Windows Explorer" and then double-click the optical drive if the setup program fails to start.
Enter the name and password found on the router into the applicable fields. Click "Next" to set up the device and create the wireless hot spot. Click "Exit" to quit.
Setup Without a CD
Enter the following Internet protocol address into the address bar of a Web browser: 192.168.2.1
Press "Enter" to access the router setup page for the Belkin device. Go to Connection Type, found under WAN. Click "Submit" if prompted to log in.
Select your Internet connection from the options and then click "Next." Enter your account credentials or the network configuration for your service -- such as your static IP address and your Internet service provider's gateway and subnet mask -- into the appropriate fields, if applicable. Click "Apply Changes."
Select "Channel and SSID" from under Wireless and then enter a unique name for your network into the SSID field. Click "Apply Changes."
Click "Security." Choose "WPA/WPA2-Personal (PSK)" from Security Mode. Select "WPA-PSK+WPA2-PSK" from the Encryption Technique drop-down menu.
Create a security key, or password, for the network. The key can consist of 8 to 63 characters -- including letters, numbers and punctuation -- and is case-sensitive.
Click "Apply Changes" to finish manually configuring the Belkin router.
Tips
If you're manually configuring your router, create a strong password to protect your network from unauthorized use. Store the password in a safe place.

The exact setup procedure may vary from model to model.

Contact your Internet service provider for information about your Internet connection if you have any difficulty setting up the Belkin manually.
Photo Credits
Ablestock.com/AbleStock.com/Getty Images