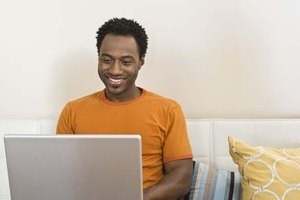 The Smart Shopper toolbar is a browser add-on that's designed to scan web pages for the best prices on various products while users are shopping online. It can, however, become a nuisance by taking up browser window space and slowing down your online shopping experience. Whether you've downloaded the Smart Shopper toolbar intentionally or unintentionally as bloatware, the best way to shut it down is to remove it. This process is slightly different on each browser but is simple to do nonetheless.
Internet Explorer
Click the "Start" button from the Windows desktop.
Click "Control Panel" to open a new window. In this window, click the "Uninstall a Program" link located beneath the "Programs" link. This will open a new window.
Locate the Smart Shopper toolbar in the list of applications. Click it once to highlight it, and click the "Uninstall" button. Follow the on-screen prompts to finish removing the toolbar from your Internet Explorer browser.
Mozilla Firefox
Open the Firefox browser, and click the "Firefox" button to bring up a drop-down menu.
Click "Add-ons" button. This will open a new tab. Click the "Extensions" icon in this tab.
Click the "Disable" button to turn off the Smart Shopper toolbar. You will receive a notification that you must restart Firefox for the new changes to take place. Click "Restart Now." Alternatively, you can click "Remove" instead of "Disable" to remove the toolbar completely.
Google Chrome
Click the "Settings" button, the three horizontal lines located in the upper corner of the browser.
Highlight the "Tools" selection; then click "Extensions" in the submenu that appears.
Remove the checkmark from the "Enabled" button located next to the Smart Shopper add-on to turn it off. Alternatively, you can click the trash can icon to remove the toolbar entirely.
References
Photo Credits
Jupiterimages/Brand X Pictures/Getty Images